This past week I was delivered a beautiful bouquet of flowers courtesy of Flowerspot.com. I was able to visit the website and browse their special collection in honor of Mother's Day. I'm not a huge fan of red roses… or any roses for that matter… so when I saw the amazing Mother's Day selection… I was so excited!
I ordered myself "Lavender Indulgescents". The description says that it includes "six graceful lavender mums, six stems of mini-carnations, three alstoemeria, and other lavender flowers". It also comes in a vase wrapped in pretty lavender paper. The "scent" part plays a large role in thie bouquet. It gives off a relaxing lavender scent.
Let me be honest with you. I know NOTHING about fresh flowers. If I get flowers… I grab them at the grocery store. Now that I've had fresh flowers delivered… grocery store flowers should be outlawed! Opening up a box of fresh flowers is a different kind of experience for the newbie. I was worried about them… I wanted to mother them. They didn't look like the picture and I was so afraid for them! But… fear not… I followed the care instructions and put them in a nice place. By morning… they were in full bloom… tall and strong and gorgeous!
I've had these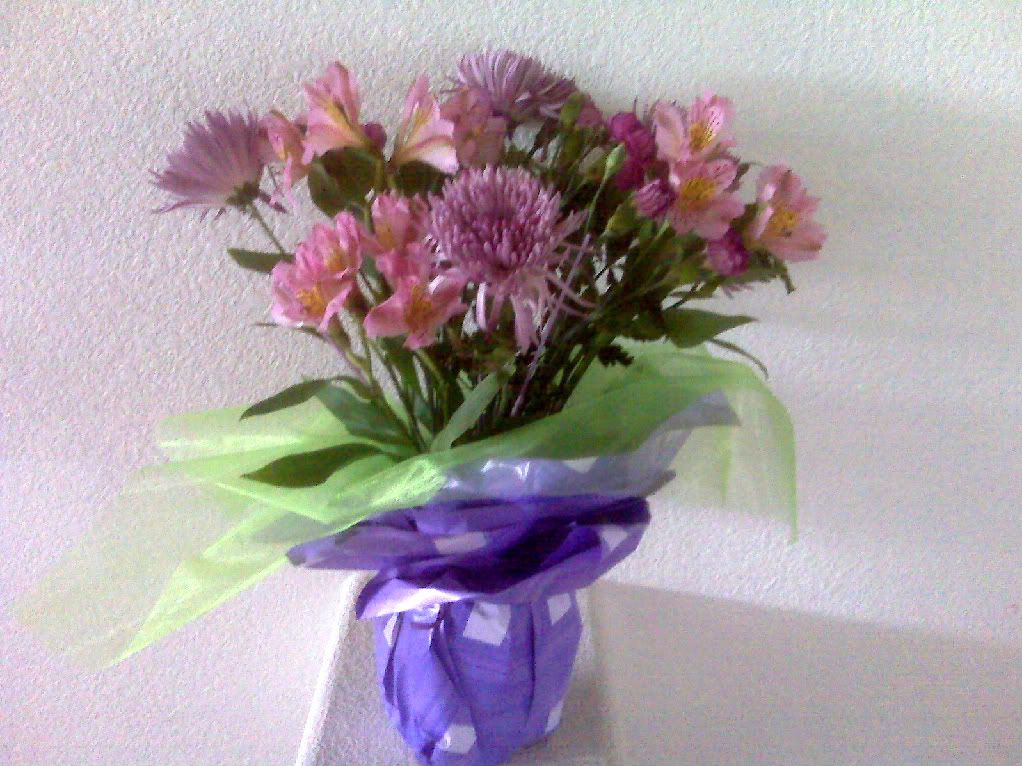 flowers for a week now and they are still going strong. It's unbelievable! They are said to bloom to maturity over 3-7 days. I had no idea flowers could even DO that! (I know… over kill on the exclamation points… but I'm just like… WOW!
Now I want to give you some flowers too. (A $50 Gift Code to be exact!) Please visit Flowerspot.com, then come back and leave a comment about your favorite bouquet. (This is the main entry… don't do anything else until you've done this one little thing for me!)
Extra Entries (Please leave an additional comment for EACH extra entry):
Follow Flowerspotweets on Twitter
Tweet about this giveaway… be sure to link it up!
Become a fan of Flowerspot on FaceBook
This contest will end rather quickly on Saturday, April 24th at Midnight PST.
xo