Archives for April 2010
Feel free to skip through my rambling!
This past week I was delivered a beautiful bouquet of flowers courtesy of Flowerspot.com. I was able to visit the website and browse their special collection in honor of Mother's Day. I'm not a huge fan of red roses… or any roses for that matter… so when I saw the amazing Mother's Day selection… I was so excited!
I ordered myself "Lavender Indulgescents". The description says that it includes "six graceful lavender mums, six stems of mini-carnations, three alstoemeria, and other lavender flowers". It also comes in a vase wrapped in pretty lavender paper. The "scent" part plays a large role in thie bouquet. It gives off a relaxing lavender scent.
Let me be honest with you. I know NOTHING about fresh flowers. If I get flowers… I grab them at the grocery store. Now that I've had fresh flowers delivered… grocery store flowers should be outlawed! Opening up a box of fresh flowers is a different kind of experience for the newbie. I was worried about them… I wanted to mother them. They didn't look like the picture and I was so afraid for them! But… fear not… I followed the care instructions and put them in a nice place. By morning… they were in full bloom… tall and strong and gorgeous!
I've had these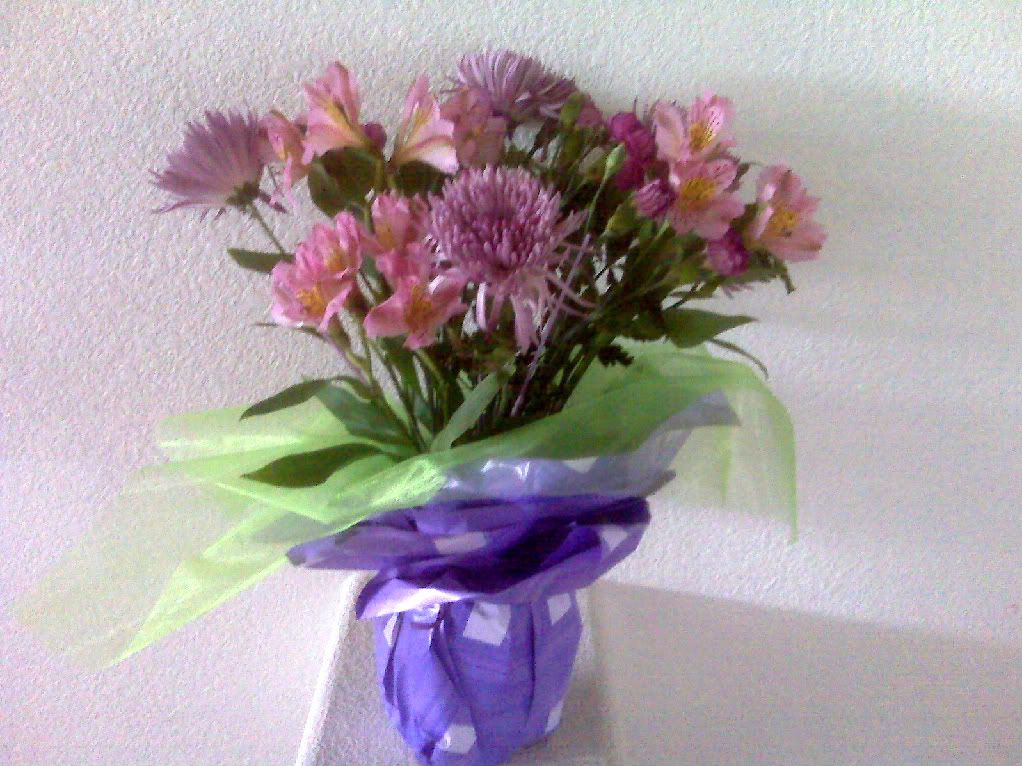 flowers for a week now and they are still going strong. It's unbelievable! They are said to bloom to maturity over 3-7 days. I had no idea flowers could even DO that! (I know… over kill on the exclamation points… but I'm just like… WOW!
Now I want to give you some flowers too. (A $50 Gift Code to be exact!) Please visit Flowerspot.com, then come back and leave a comment about your favorite bouquet. (This is the main entry… don't do anything else until you've done this one little thing for me!)
Extra Entries (Please leave an additional comment for EACH extra entry):
Follow Flowerspotweets on Twitter
Tweet about this giveaway… be sure to link it up!
Become a fan of Flowerspot on FaceBook
This contest will end rather quickly on Saturday, April 24th at Midnight PST.
xo

Join me tonight at 10pm EST on MomTV for Sew Krazy! Tonight we will be making a French Memo Board!
Supplies needed:
An artist canvas of your size preference
Layers of puffy fiber fill (optional)
A fun fabric to cover your canvas
Coordinating ribbon
Coordinating buttons
Thread
Hot glue gun
Let's do this!

Today has been one of those days… It started off sane enough. I had to take my 5yr old, Rachel, to the dentist. She had 3 cavities… THREE! When I first heard that… I felt like a terrible parent. But then I reassured myself that it was a good thing I had faith in her oral hygiene abilities. I was giving her responsibility. (whatever helps me sleep at night… right?) So… I packed up The Family Coach Method by Dr. Lynne Kenney and we headed off to have those puppies filled.
I read, I tweeted, I tweeted while reading… and before I knew it… we were headed home. Things were good. I had a loopy, yet quiet child in the back seat and another at home waiting for us. Once we got home… I realized that if I can't find an affordable summer camp option… I might run away.
Don't get me wrong… my girls are really good. I rarely have issues with them. They play well together, they make their own snacks, they tell me knock knock jokes of their own creation… but every now and then… they turn into these… things.
It starts as a low rumble and slowly builds. The rumble of giggles turn to squeals (I accept blame for that). Squeals turn to screams and screeches. Screams and screeches are accompanied by running through the house… falling… fighting… crashing into one another…
Meanwhile… I intervene every 5 minutes. I feel so inept on these sort of days. I feel that my every effort is futile. I even SCREAMED…. why are you screaming?
Ironic huh?
So… it was one of those days. I ate 3 Ibuprofen before I wrote this post and the left side of my temple is still throbbing in rebellion. It's strangely quiet now though. It must be the savory smell of pizza in the oven. Or maybe it was the threat of sewing the seat of their pants to the couch if I can't get a few quiet moments to myself…
Don't test me.
Want to read about another loud obnoxious day? Check out The Bantering Blonde.
Tonight on
Sew Krazy
at 10pm EST on
MomTV
… watch the replay of Shannon
@Shibaguyz
as he shows us how to crochet a rag rug with a GIANT crochet hook. This was one of the highest viewed episodes of Sew Krazy! If you missed it the first time around… catch it tonight! It was Hi-larious!
K! Bye!