My oldest daughter will be starting Kindergarten on Monday. I'm sure I will do a lengthy post all about it… but before I break down into tears…. I want to share with you the awesome End of Summer Party we had courtesy of Nick Jr. and MomSelect.
Check out the spread… The Nick Jr. SpongeBob plates, cups, and napkins were a hit! Many rounds of "Who lives in a pineapple under the sea?" were sung as they snacked on Great Value Fruit Smiles.
I asked Rachel what she wanted to eat at the party and she decided on Mac 'n Cheese. The girls helped me make the Kool Aid. Helping in the kitchen is one of their favorite things to do!
We put out some yummy grapes and no party is complete without mini cupcakes! (Just ask my 3yr old Allison… she ate 1 of them without me noticing and used another to write a giant "A" on the wall in frosting just minutes before the party no less…) No worries though… I managed to clean it up and not loose my cool before our guests arrived.
A good time was had by all! That's Lucas… Isn't he handsome? He even told us so! :) Smiles seem to be the theme of that picture… between the Great Value Fruit Smiles and the grinning SpongeBob cup… Lucas fits right in!
It was a great party and a nice memory for Rachel to take wi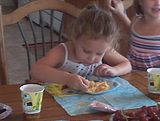 th her as the last summer before she starts school comes to a close. Thank you Nick Jr. and MomSelect for giving us the opportunity to share this moment together. Can someone please pass me a Kleenex?